Really nice and well equipped house in the charming old part of the town of Monopoli with 2 apartments: The main house Terrazza San Leonardo for up to 8 persons has 3 floors and a roof top terrace on the 4th floor with a view of the nearby sea. You can also stay just 2 or 4 persons; in this case you'll just not make use of the sofa beds. The house has many and partly steep stairs and is therefore not suitable for walking-impaired and kids under 5-6 years.
Further there is a little ground floor apartment in the same house called Casa San Leonardo which is suitable for 2 persons, possibly with a baby.
The lovely sandy beach Porta Vecchia with nice, clear water is just 3 min. walk away from the house – even though it is located in the centre of the town.
Both houses are non-smoking-houses!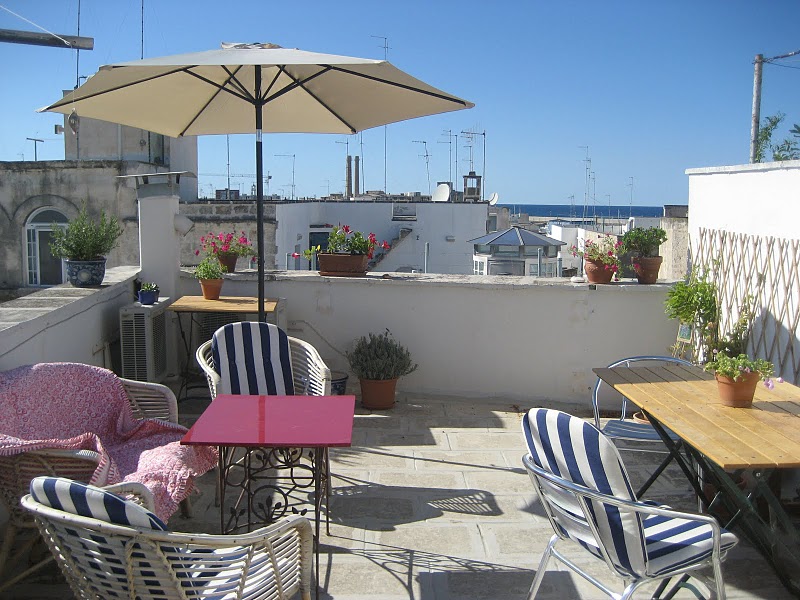 On this site you'll find information about the town of Monopoli, about the house, about the surrounding areas, sightseeing and how to get there. on the tabs or the menu to the right to get more information and see more pictures!
Where is Monopoli, excactly? Monopoli is located on eastern part of "the heel" of Italy, between the bigger cities Bari and Brindisi.